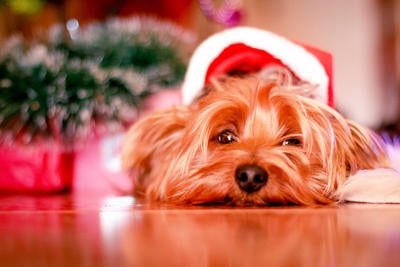 As we get closer to the holiday season, you may be making plans to go home to visit family, or your family may be coming to see you. If you have pets in the household you may need to make additional plans. When making your plans there are several things to consider. Always check with who you are going to visit to make sure you and your pet will be welcome. Sometimes things in the house have changed and you may not be able to take your furry friend. If you are planning stops at hotels along the way, make sure the hotels are pet-friendly. You can find a list of pet-friendly hotels online, always call to make sure the listing is accurate.

If your pet is not used to traveling, take some time before your trip to go on short, fun trips to get him used to the vehicle. Take him to your friend's house for a visit, go to your veterinarian's office and just get some treats, go to the pet store and pick out a toy. Remember that the sights and sounds of the road can be very scary to a pet who does not leave the house often; it will be better for everyone if you know how your pet will respond in the car. If your pet cannot get adjusted to the car, you may want to consider boarding him or having a pet sitter come to your house.
Although many dogs can be trained to sit quietly in the car, it is not recommended to leave the pet loose in the car for many reasons. First, if you were to have an accident, the pet could get loose. Second, if he sees something and gets scared or excited, the sudden movement of your pet could cause you to have an accident. As an example, my own dog often goes to the lake with me to go running. One day we had to run some errands first. When he realized we were not just going to the lake, he got very excited and tried to climb in the front seat with me. A 70-pound dog does not help you drive very well. There are many types of harnesses available for dogs that attach to the seat belt so Fido can sit in the front seat with you safely. It is always best to have a cat in a carrier as they like to get under things, such as the gas or brake pedal, to hide. The carrier should be of a sufficient size that he can stand up, lie down and turn around, but not so large that he would be thrown around inside of it by any sudden stop of the vehicle. Several of the local grocery stores sell prepackaged litter pans that will fit inside a carrier if the trip will be a long one.

There are several other things that are important to remember while traveling. Always make sure your pet has identification on him, a collar with a tag or a microchip. Make sure that all your information is current on the tag. A current picture of your pet is helpful also should he get lost. Be sure to take copies of your pet's medical records with you just in case something should happen while you are away. In an emergency situation, it is best for you to have your paperwork in case the veterinarian cannot reach your doctor at the time. Remember emergencies do not always happen at convenient times and your veterinarian may not be open to sending the necessary records. Also, remember to take your pet's medication with you (this includes heartworm, flea and tick, and any specific medications). Many states prevent the dispensing of prescription medication without a client-patient relationship, so you may not be able to get medication without an examination. If your pet needs special food, be sure to take an adequate supply of this also.

If you are traveling across state lines most states require a health certificate showing that your pet is up to date on his rabies vaccine. This health certificate must be signed by your veterinarian within 10 days of travel and is valid for 30 days. It is necessary for your pet to be examined by the doctor at the time that the certificate is created and signed. If you are traveling on a plane, you are also required to have a health certificate. Most airlines want these to be dated within 10 days of travel also. Each airline has specific rules about the size of the carrier and the weight and size of the pet that is allowed to fly in the cabin with you. Be sure to check with your airline specifically before making travel plans.

If you are traveling to a foreign country, there are specific rules for what each country requires. You will need to have your veterinarian check with the USDA for the destination country's most current requirements. Some countries require additional testing and/or treatments before the animal may enter the country. These international health certificates must be signed by the state veterinarian, as well as your veterinarian. This requires the paperwork being sent to Gainesville and returned. Remember to factor this time into your travel plans. Without a signed international certificate, your pet will not be allowed to travel with you.

So while you are making your travel plans, do not forget to consider the special needs of your furry family members.