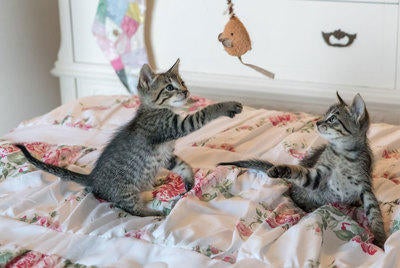 Gadgets, everybody loves gadgets these days. Smartphone apps, tablets, exercise watches, there's all kind of gadgets for people. Anyone waiting for the Apple watch? But what about your pets? Are there gadgets you can get for your pets? How can you make your pet's life better when you work long hours outside the home? Well, there are ways to do that these days. Some of them are available now, some are in the works. So let's take a peek at some of them.

Voyce is a wearable collar that measures heart rate, respiratory rate, active time and rest time, calories burned, plus many more things. This particular collar will be able to share data on social media and with your veterinarian. There will be articles available tailored to your animal and incentives for achieving goals. It is lightweight, runs on radio frequency and works with all current browsers, desktops, tablets, and smartphones. It is believed the monitoring may help to identify disease more quickly. It is not yet available and will require some type of service contract.

Another product that is in the works is FitBark. This is also a collar attachment that tracks activity. This one will track times at different activity levels, has breed specific guidelines (since some breeds have much more energy and drive than others). It will allow you to share information on social media and you can set up a to-do list, messages, and even find out who is with the dog. Notifications will be sent if the activity level goes outside of normal; for instance, if your dog starts sleeping more than she used to it could be a sign of a problem. This one is also not yet available, but coming soon.

There is one that is available called Whistle. This attachment tracks activity and rest. You can set goals and track progress. It works on blue tooth and wifi. Currently available for around $100.00.

What about feeding your animal while you are not home? Well, there is a product called Bistro that is being developed for cats. It will be able to identify each cat in the house and allow you to set different feeding amounts for different pets. This product will have facial recognition for each cat, will weigh the cat and the amount of food he eats. It will also record water intake. This will be great for those multiple cat households that are not sure who is eating what, or if you need to control food intake since one cat is overweight. This can be preordered if you are interested.
If you would like to see what your animal is doing while you are away, or need to keep your pet out of certain parts of the house, Eye Animal has some interesting products. They have a pet camera, bark collars and a product that deters your pet from going into certain rooms in the house.

Petcube is an interactive camera that allows you to watch your pet, talk to him or play laser games from anywhere using your smartphone. This might help some of those pets that have separation anxiety issues, it will be interesting to see. Speaking of anxiety, Mothers is a product being developed that will allow you to talk with your pet and dispense a treat while you are away. This one is still in the early stages of development but has great potential.

Laser toys are great fun for both dogs and cats. There are several gadgets available that are automatic laser toys that will keep your pet occupied even when you have other things to do. Dart is one of these. It has a 360-degree rotating laser with variable speeds and patterns and an automatic timer. There are others available also.

Of course, there is always old-fashioned fetch. Go Dog GSubmito is an automatic fetch machine that can launch balls automatically or with a remote. It can be set for different distances and different times between launches. It only powers up when the ball is ready to launch and can use different sizes of balls for different dogs. The dog has to return the ball to the bucket for the balls to launch.

So these are some of the things available or soon to be available for your pets. Have fun with your pet with some of these new gadgets.

Merry Christmas!!!