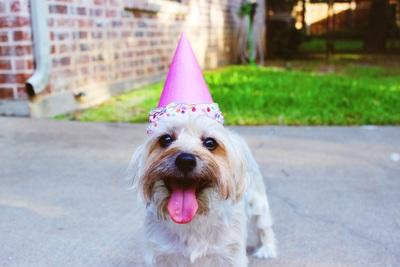 We, as humans, have lots of holidays. But did you know there were special days for our pets, too? Now, some of our holidays are serious and have great meaning, and some are a bit more greeting card days. The same is true in the pet world. So let's take a fun look at a few of these holidays.

January was Walk Your Pet Month. This is a good way to start out the new year. Many people make resolutions to get moving and lose weight. So it is great to do that with your pet since many pets are overweight, but they can't make a resolution to lose weight. January 14th was National Dress Up Your Pet day (maybe my dogs hid this from me on purpose). There are many costumes and clothes items out there for dogs and cats. So once a year, it is a day of bonding with your pet and getting them all dressed up to go out on the town. This day was established in 2009 by an animal behaviorist.

January 22nd was National Answer Your Cat's Question Day. So cat owners were asked to pay special attention to their furry friends on that day and try to understand cat language and answer any pressing questions. What would your cat ask you? Why can't I walk on the counter? Why do you get upset when I leave a hairball in the middle of the floor and you step on it?
Some of you may know February is Pet Dental Month. In this month many veterinarians try to raise awareness of the need for pet oral health care. But did you also know this month is Spay/Neuter Awareness month? This was established by the Humane Society to help decrease the problem of stray animals. Many animals end up in shelters because of unwanted litters of puppies or kittens. Spay/neuter helps stem this overpopulation but also has some other health benefits that many owners do not think about. According to the American Veterinary Medical Association, animals that are spayed and neutered live longer by reducing the risk of certain cancers. Sterilization also decreases the desire to roam which reduces the risk of injury and illness.
Valentine's Day was the 14th, Love Your Pet Day is February 20th. So don't forget to tell your furry friend how much you love him. But remember, no chocolates! Stick with pet appropriate treats, toys and cuddles.

In March, the Iditarod Race will start. This is a sled dog race from Anchorage to Nome, Alaska. A team of 16 dogs will cover this rough terrain in 9-15 days. Most of the route is through harsh landscape. This race is the most popular sporting event in Alaska and is difficult for the humans as well as the dogs. There are checkpoints along the way to monitor the health of the dogs. March is also the month the Crufts dog show is held in Birmingham, England. This is the largest dog show in the world and spans four days.

March 3rd is If Pets Had Thumbs Day. What would your pet do with thumbs? This gets you to thinking about all kinds of silly things your pet would do if he had thumbs like us-- open the door, see what is in the refrigerator and help himself to some snacks, hitchhike to his friend's house.

April is Prevention of Cruelty to Animals month. Along with that theme, April 12-18th is Animal Control Officer Appreciation week. There are many cases of abuses that go on in every community to animals. For some, it is simply a lack of education or understanding of what is required to properly take care of an animal. The animal control officers are tasked with responding to complaints and trying to educate people about proper animal care while protecting the welfare of the animals. This job can be very difficult at times. Some people have animals but do not really care about them and abuse them in many ways. If you take on the responsibility of caring for an animal, you must do so properly. If you do not have the resources to feed, house and give proper medical care to an animal, then you should not have one.

April 26th is National Kids and Pets Day. This day was created in 2005 to help further the bond between children and pets. Animals can show lots of love to children and allow them to become more confident and compassionate as individuals. This day also focuses on how to responsibly teach your children to care for the pet. Remember to not leave small children alone with any pet that could potentially cause harm. Pets can bring great joy and fun into a household. And there are many out there that need homes.

So have some fun celebrating some new holidays.